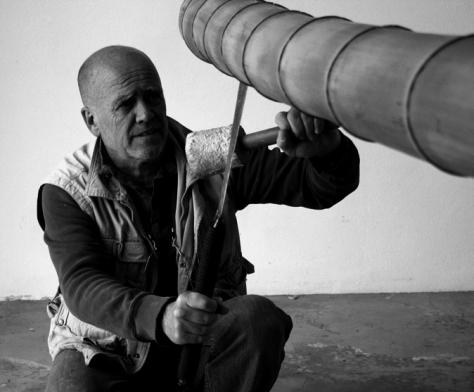 Its balance, lightness and flexibility
Its mathematics, poetry and sensuality.
I also work with the air and the light.
1955-1998 I was born, I graduated ENSAD (Paris) and I dealt on visual communication
1998: I fall in love with bamboo and begin my research and experience about its infinite resources
2004: I say goodbye to my old life to pursue my passion and take the first step of my
"Bamboo Road"
through India, Thailand, Vietnam and Laos where I discover the essence of bamboo.
2011: my second research trip take me to Mexico and Central America to investigate bamboo issues
on architecture and structures
2013: February-March in Bali! Where I

experience

techniques and ideas with amazing bamboos.
A great life and bamboo lesson !
2016: exploring in Korea & Taiwan the Ceramic & Bamboo craft.
2017: many projects in Taiwan collaboratively with the NTCRI, National Taiwan Craft Research Institute.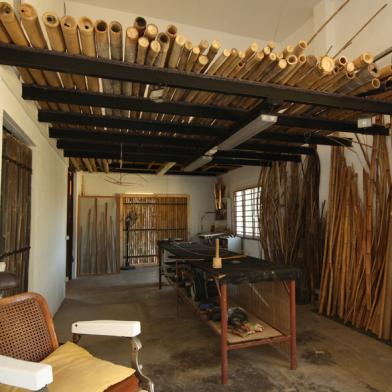 visite my workshop in Camallera - Girona - Spain
exhibitions:
2016
KIAF Fair Seoul. Korea
"Black & Line" Side Gallery . Barcelona Spain
"sur les chemins du bamboo". Can Mario Museum of Sculpture. Palafrugell. Spain
"Intangible space". Puerta Roja Gallery. Hong Kong
2015
"bamboo sculptor 2005-2015" Espai Volart. Fundació Vila Casas. Barcelona.Spain
Art Elysée Fair Paris. France
"taboo bamboo" Galería PatrIck Domken. Cadaqués (Girona) Spain
"10 años con la energía del bambú" Galeria Km7. - Girona, Spain
Art Madrid Fair Madrid. Spain. February
Eurantic Fine Art Fair, Brussels. March
Breda Art Fair April. Netherlands
HCH Gallery The Hague, Netherlands
2014
Pinta London (art fair) introduced by Mercedes Durban and Aina Nowack Gallery.
"energy dome for piano" galería Patrick Domken. Cadaqués. Spain
2013
"bamboo energy" fondacion Ars et Scientia, Centro Médico Teknon - Barcelona - Spain
"inside bamboo" Palau Casavell - Spain
"moviment i espai" Marges-U - Cadaqués - Spain
"aperitivos de arte" Galería HCH- La Haya - Holand
2012
"one bamboo show" Palau Casavell - Spain
"esferas del bambú" Galería km7 - Girona - Spain
"esfera bambú" Espacio In gracia - Barcelona - Spain
finalista al premi d'escultures - Fundació Vila Casas - Palafrugell Spain
2011
"organic geometry" Galería Aina Nowack - Madrid - Spain
"alma del viento" Tramuntan'art Port de la Selva - Spain
2010
"bamboo mind" Galería HCH- La Haya - Holanda
"galaxy" Galería Impar - Sao paulo - Brasíl
"inside bamboo" Galería Àmbit - Barcelona - Spain
"bamboo dreams" Galería km7 -Girona - Spain
"alphabeto del viento" Galería Pilar Riberaygua - Andorre
"bamboo spirit" Espai K - San Feliu de Guixols - Spain
"sueño con mujer y barco" Ruta de l'Art - Castelló d'Empúries - España
2009
finalista al premi d'escultures Fundació Vila Casas (Palafrugell)
"forma y color" Galería N2 - Barcelona - Spain
"la ruta del art" - Castelló d'Empuries - Spain
"natura morta" Galería km7 - Girona - Spain
2008
"al fil del vent" Galería km7 - Girona - Spain
"body bamboo " Galería Catártica, Torino - Italy
2007
"bamboo wind" Galería N3 - Madrid - Spain
"bamboo space" Galería N2 - Barcelona - Spain
Galería km7 - Girona - Spain
Galería Juan Planellas, Tosa de Mar - Girona - Spain
2006
"bamboo grove" Galería km7 - Girona - Spain
"grandes formatos" Galería de Lassaletta - Barcelona - Spain
2005
"bamboo art work" Galería km7 - Girona - Spain
"pequeños formatos" Galería de Lassaletta - Barcelona - Spain